In today's interconnected business environment, departmental collaboration is crucial, and Copyl's Integration Platform revolutionizes this interaction. By allowing different departments to set up their own apps and integrations, Copyl empowers them to expose data models and endpoints to other departments effortlessly. This democratization of integration means that more complex tasks aren't bottlenecked by traditional IT workflows.
Most integration jobs are performed in the browser, simplifying the process and making it accessible to a wider range of team members. However, when programming is required, the IT department isn't left in the dark. With Copyl's specialized tool, departments can order integrations directly from IT, ensuring that technical expertise is available when needed. This holistic approach fosters a collaborative environment where departments work in harmony, maximizing efficiency, and ensuring that the right information is in the right hands at the right time.
Integrations as a Service: A New Frontier
With Copyl, integrations are not just technical necessities; they're services that can be ordered and managed with ease. From API to database integrations, our platform uniquely caters to each team's specific needs. This ensures that the right people have access to the right tools without overwhelming them with unnecessary complexities.
Tailored Access and Security Controls
Our platform recognizes that not every team member needs access to all aspects of the integration platform. With team-based access controls, you can manage who gets access to specific Integration Apps, Secret Vault, and Integrations. Whether shared with everyone or restricted to a team, control is in your hands.

Each department can select which data is available for other teams, and what data can be changed. Pre-defined database queries is a unique tool here. Each Data Owner can tag the data leaving their apps to inform the consumers of the data if it's confidential, GDPR, financial data etc.
Unified with Copyl Microservice Management
Integrating the Copyl Integration Platform with Copyl Microservice Management elevates your integration capabilities. Centralized logging provides insights from application logs, and detailed documentation covers all aspects of integration apps, environments, classes, data watches, triggers, actions, and integrations. Everything you need is gathered in one place.
Flexible Environment Support
Copyl's support for multiple environments, including test and production, provides flexibility in how you manage and publish your integrations. Transitioning from testing to live production is streamlined and secure, fitting seamlessly within your workflow.
Tagging Made Easy: Data at Your Fingertips
The tagging tool in Copyl is a game-changer. Out of the box, we provide about 20 tags like Financial, GDPR, Employee, Confidential, and PII data. But the true innovation lies in your ability to create custom tags, allowing you to organize and access data the way you want.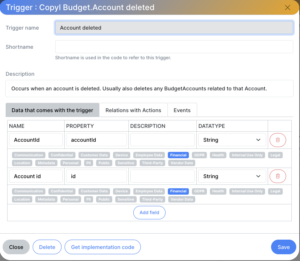 Conclusion
Copyl's Integration Platform is not just a tool but a revolution in how businesses approach integrations. By marrying project management with integrations, offering tailored access controls, providing comprehensive documentation and logging, supporting varied environments, and introducing a state-of-the-art tagging system, we're redefining how integration is done.
Embrace the future with Copyl, where Integrations as a Service isn't a distant dream, but a tangible reality.