Copyl's app is updated daily and in order to get the latest version, you only need to reload any page in Copyl.
This is where you find version info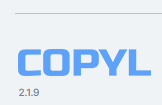 Version number is below the logo.
Every hour you will receive a discreet notice stating that there is a new version of Copyl. Once you have reloaded the page, you will not be reminded until the next time there is an update. You always get the latest version when you refresh the page, no matter how old your previous version was.
If you want to know more about the changes in the releases, you can look at the Changelog page.