Free Workforce Planning Software in the cloud
Copyl increases your revenue with a smart workforce planning system created for service providers.
Engineers
IT consultants
Agencies
Sign up for the free version of this product.
Everyone becomes more efficient when you know what to do
Copyl is a Workforce Planning Software that is optimized for consulting firms.
Resource Allocation, Time Reporting, Gantt charts and Workload Management are some of the features.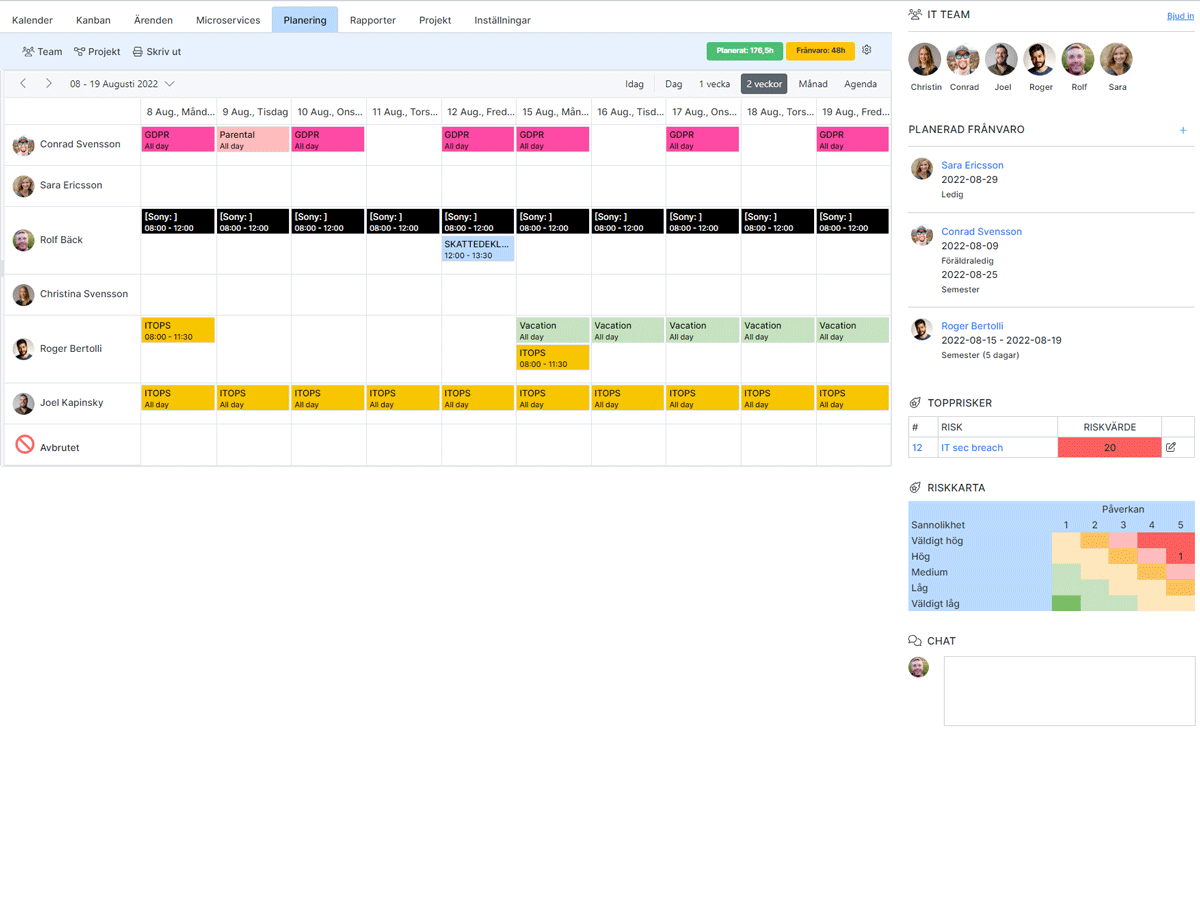 Workforce Planning
Create and assign tasks, plan projects and absence. Recurring tasks.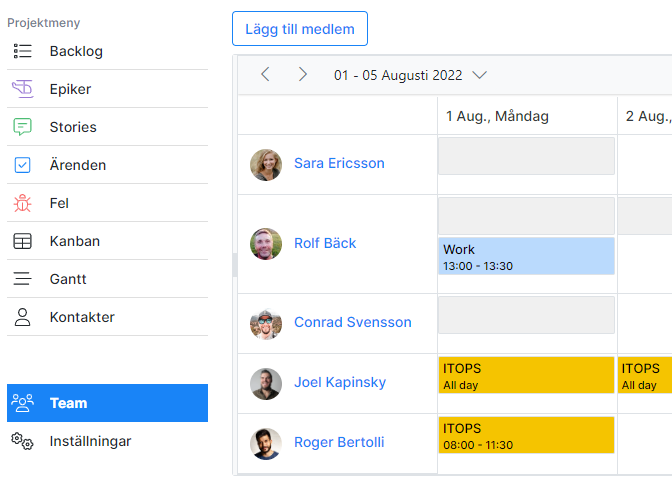 Project Management
Book resources on projects. Gantt. Project plans. Reports. Scrum. Portfolio management.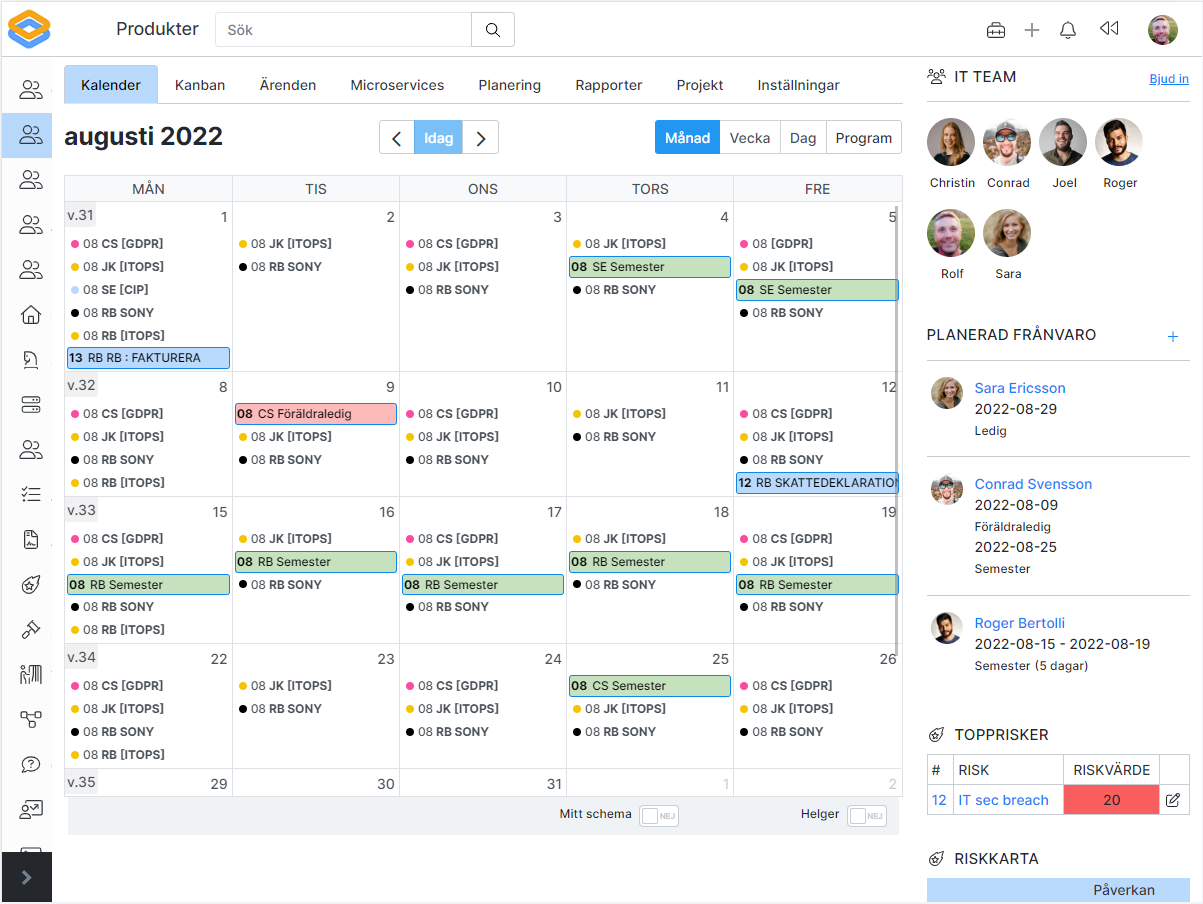 Capacity Management
You and everyone else know what needs to be done today, tomorrow and next month.
Optimize occupancy rates and deliver your promises on time
Planning assignments for staff may not be difficult, but when deviations occur, such as delays, illness or changes in priorities, it is more difficult. Then a tool is needed to communicate changes and an updated calendar for both employees and projects.
Drag and drop planning between dates and resources.

Vacation and other absence planning

Revenue forecast from Project Planning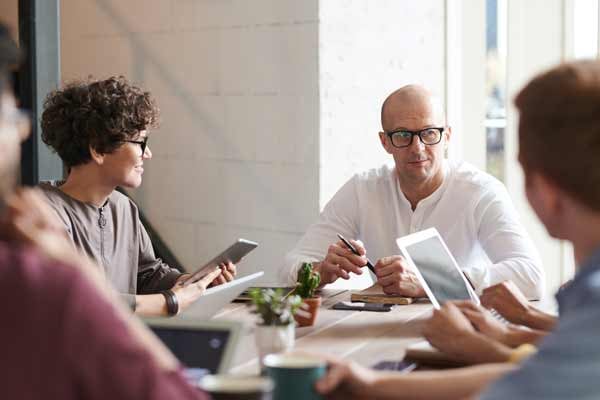 Every team has it's own pages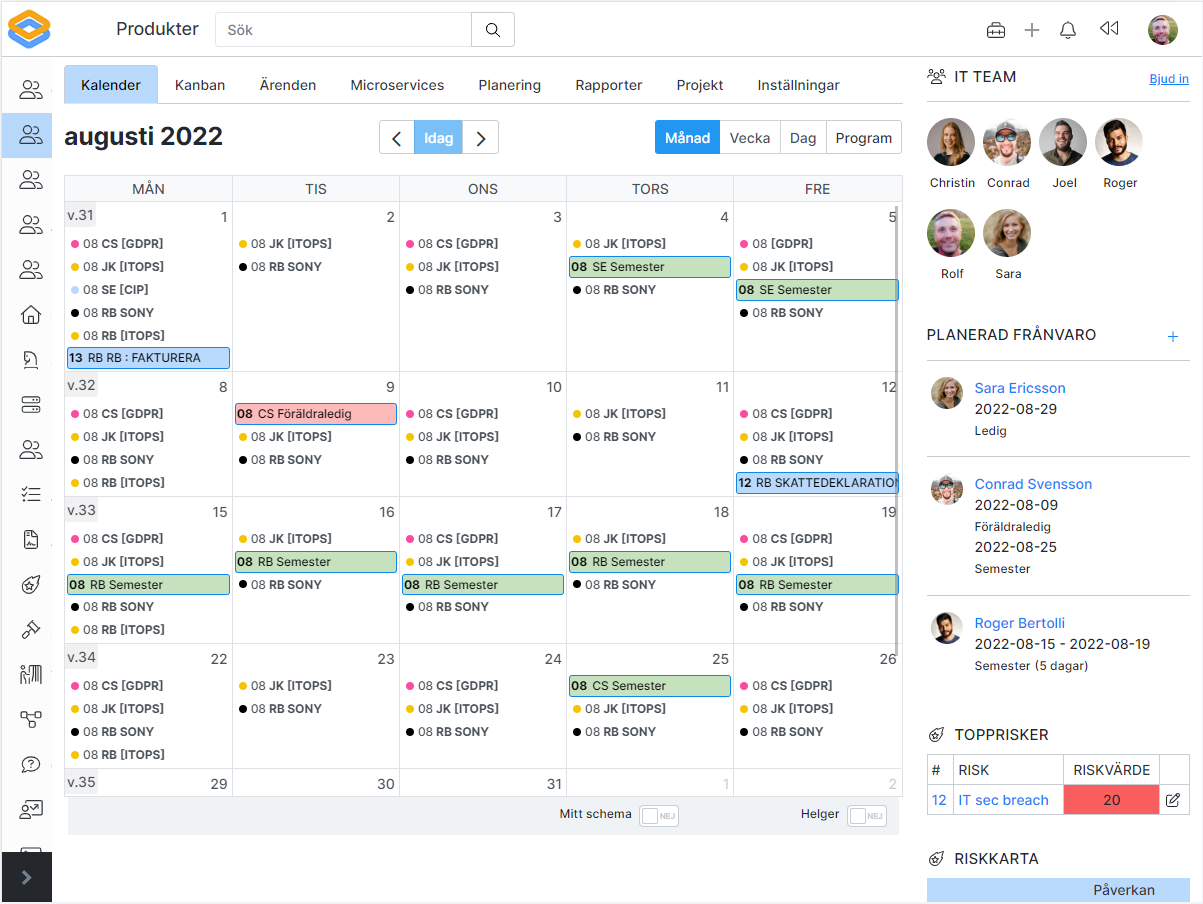 In order to quickly find what is relevant to the user, we have created special team pages.
You can invite external users to a team for better online collaboration.
Super secret: projects and contacts can belong to individual teams and other users cannot access them.
Built for consultants - by consultants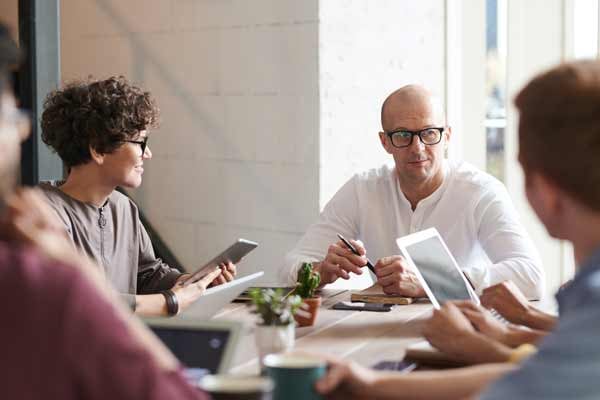 Copyl started as an internal resource planning system for our own consulting agency. We know what challenges there are in optimizing the occupancy rate and at the same time delivering all promises on time. Not to mention follow-up, time reporting and invoicing.
We struggled with everything from paper and pencil to complicated Excel sheets. Over a weekend, the first version of Copyl was created, with planning and time reporting.
The trend is clear; we work more from home and hire more consultants from other parts of the world. For it to work effectively, we need something more than Slack to know who is doing what, when.
---
Since the start in 2011, we have gained the trust of thousands of users who use Copyl daily
We have helped our customers plan and follow up millions of hours. Our first customer, Samhall, still uses Copyl today to plan their staff on different types of assignments.

---
Copyl is future-proof
The platform in Copyl handles much more than workforce planning. As your needs increase, Copyl has fully integrated functions for, among other things, contract management, risk management, board portals, budget and many more modules.
In addition, the technology behind Copyl is completely up-to-date and is secure with encrypted communication and storage. When you need to integrate your IT systems, Copyl has an advanced integration platform that connects everything for you.

Features and Pricing

:

Workforce Planning

No start-up costs. No binding time. No hidden costs. 30-day money-back guarantee.
Try the free version of Copyl Resource Planning now
Do you have more extensive needs or want to know more?
Contact us and we will help you with all kinds of questions.
Copyl AB, Kellgrensgatan 8, 254 40 Helsingborg, Sweden
Business ID: 556747-5693, CFAR: 53904017
Established: 2007, Part of Ntech Group.
Frequently Asked Questions
Does Copyl have a mobile app?
Yes. The website is built as a PWA app ('Progressive Web App') so you just save the URL in your mobile and you have an app installed.
Can Copyl be changed to meet our specific needs?
Yes. On the one hand, we are constantly developing Copyl based on the customers' needs and if there are special functions that do not suit other customers, we adapt your environment. Copyl also has an integration platform that makes it possible to connect all your internal - and external IT - systems.
How can you offer a free version?
We have customers who pay for Copyl. Those revenues allow us to offer the product to companies that want to test Copyl or that do not have as great a need for functionality.
How does pricing work?
The price is based on how many people you want to plan. Each user you want to plan needs to have a license at the same level, or higher, than yours. You can have as many teams, users, projects, cases, and customers as preferably.
Can I downgrade my licenses?
Yes absolutely! You can do it easily yourself under Settings and if you need help contact us and we will help you immediately.
Which payment methods do you offer?
Card payment (Visa, Mastercard and American Express). If you want to pay against an invoice please contact us.
Can you get a quantity discount?
Yes. Contact us and tell us how big your team is.
How long has Copyl been around?
Copyl was founded in 2007. First as an internal product of the Swedish IT consulting company the group owns. In 2011, we started to bring customers into the platform. During 2019-2022, the entire platform was rewritten to newer technology.
Where is the data stored?
All data in Copyl is stored in Sweden. Copyl AB is a Swedish company that is governed by Swedish law and complies with the GDPR. You have the option of encrypting data in the database to ensure that personal data cannot be read out without a password.
Have more questions?
Contact us and we will help you with any question.
Compare versions of
Copyl Workforce Planning
Free

Professional

Enterprise

Price per month

$9.90

$19.80

Plan members in


my primary team

all my teams

all teams

Daily-, Weekly-, Monthly Calendar
You can plan your time and your colleagues in a daily-, weekly- or monthly calendar.
Plan physical resources
You can plan your physical resources like cars, rooms, machines etc.

Unlimited

Recurring Tasks
Create recurring tasks to efficiently plan your resources long-term.
Absence Planning
You can plan your and your colleagues absence.
Gantt Scheme
A Gantt scheme shows hierarkial relations between the tasks.
Time Reporting
You can report your time to your projects.
Billing documents
Create billing documents from the timereports in each project.
Revenue & Workload Forecasts
Forecast your revenue based on your timereports and planning.
Teams & Project Reports
Get reports on your teams and projects.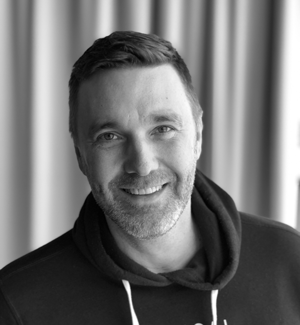 I will help you implement Copyl
Hello! My name is Rolf Bäck and I am the founder of Copyl. For almost 30 years, I have helped companies build smart IT systems.
The best thing I know is to help customers get started with Copyl and help with adaptations and integrations.
Some of my latest clients are Sony, Samhall and the particle accelerator ESS.
Do you want to know more about how we can help your company in particular? contact me directly.
Try Copyl you too - as thousands of others have done
Use our free version as long as you want.