Digital contract management
with e-signatures
Modern contract management software that simplifies and speeds up your contract management process.
Customer contracts
Supplier contracts
Employee contracts
Sign up for the free version of this product.
Gives you full control over the agreements before they are extended
Copyl is a free cloud based Contract Management System that suits all sizes of companies, in all industries. Copyl is a complete contract management platform that supports your entire contract lifecycle management.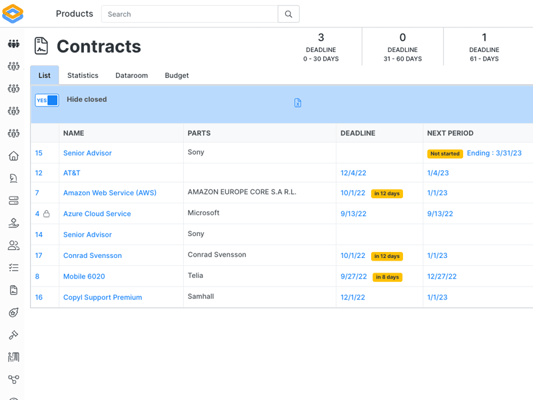 Contracts overview
Provides snapshot of all contract data. Search function, export, filtering and sorting.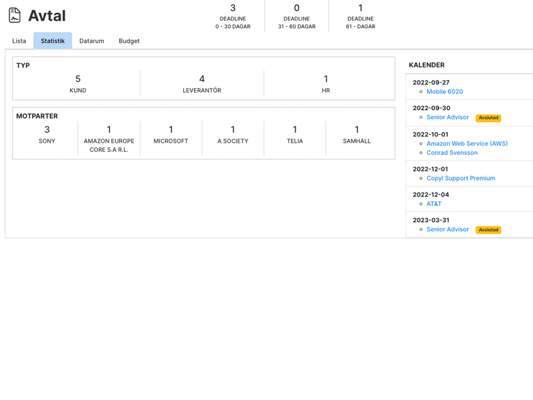 Contract statistics
Number of contracts per type, per counterparty and a calendar showing important dates.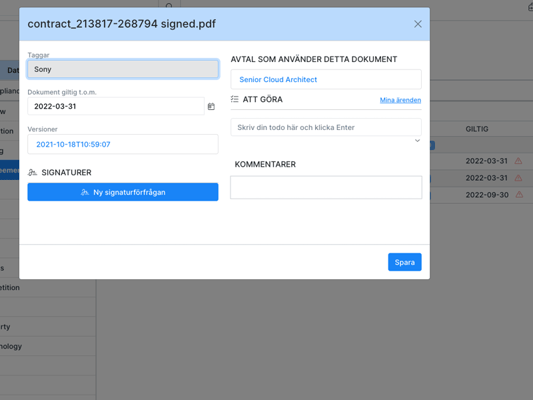 Data room with version management
Documents are version managed automatically in Copyl Virtual Data Room (VDR).
Important features of a digital contract management system
With Copyl, you can manage fully digital agreements and regular agreements signed on paper. Copyl's smart AI identifies key concepts and makes it easier to find agreements.
Automatic reminders before deadlines

Digital Signatures saves a lot of time.

Flexible rights system for easy sharing of contracts.

Updates the Budget automatically.

Integrate any other it-system with your contracts.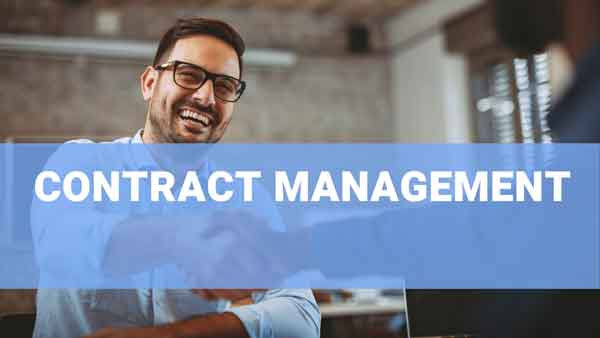 It's easy to create and upload contracts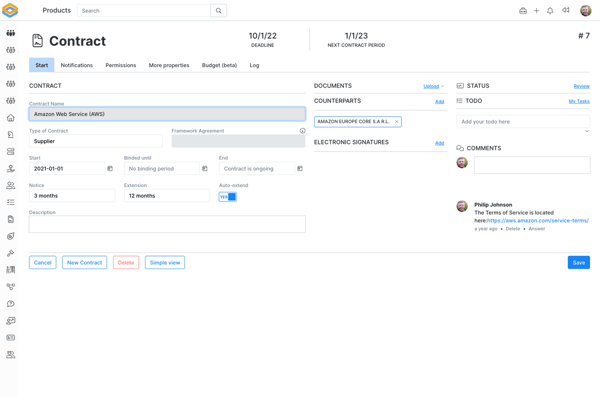 It only takes a few seconds to set up a contract.
You can invite your colleagues so they can access each contract.
Copyl is like an Operating System for Businesses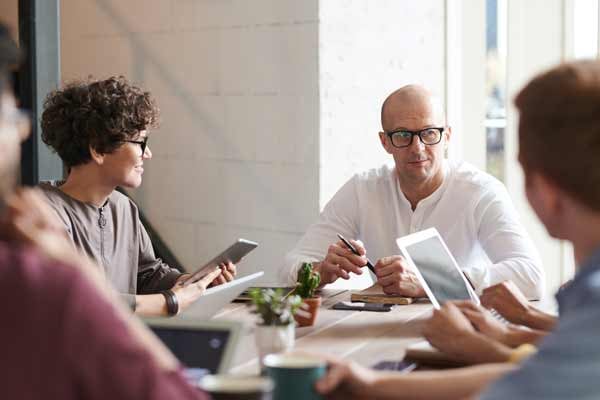 Copyl started as an internal system for our own consulting agency. The year was 2007 and since then has we continuously expanded and upgraded the platform according to our customers' needs.
All parts in Copyl are modules that can be connected as you go. A good example is the budget function which can added to each contract and which accumulates to the company's large budget. Or agreement in the contract management system that is linked to the project module that is time reported and the contracts receive automatic follow-up of those hours.
With Copyl, you don't get stuck in a system. All data is open and you can use our Integration Platform for moving/copying data between your systems and Copyl.
---
Since the start in 2011, we have gained the trust of thousands of users who use Copyl daily
We have helped our customers plan and follow up millions of hours. Our first customer, Samhall, still uses Copyl today to plan their staff on different types of assignments.

---
Features and Pricing

:

Contract Management

No start-up costs. No binding time. No hidden costs. 30-day money-back guarantee.
Latest news

-

Contract Management
What a Contract Management software can do for your business
More organizations look to automate and streamline their contract management processes. Copyl's user friendly Contract Management software has helps you create and manage contracts with improved efficiency and reduced risk. But first, lets look at some of the common benefits of using a contract management software. Top 10 benefits of using a contract management software […]
Try the free version of Copyl Contract Management now
Do you have more extensive needs or want to know more?
Contact us and we will help you with all kinds of questions.
Copyl AB, Kellgrensgatan 8, 254 40 Helsingborg, Sweden
Business ID: 556747-5693, CFAR: 53904017
Established: 2007, Part of Ntech Group.
Frequently Asked Questions about Contract Management
Can I see our agreements from other modules in Copyl?
Yes, you will find the agreements in 'Contacts' where you see all agreements linked to a company. You also see the agreements in the project management, in the board portal and from the budget module.
What happens if I don't terminate an agreement that expires in the agreement system?
If the agreement is marked with 'Extend automatically', the agreement will be extended as long as the Extension Period is on the agreement. Otherwise, the agreement will be automatically terminated in Copyl. As the agreement owner and agreement guardian, you will receive an email both before the termination date and after the agreement have been extended or terminated automatically. The agreements remain in Copyl until you delete them.
What does "Tied to" mean in contract management?
An agreement can be bound for a period where you cannot terminate or renegotiate the agreement. Common with mobile subscriptions, among other things.
What is under the "More Properties" tab?
You yourself can create a list of fields in which you want to save information. You post the list under Settings (you must be superadmin to do that) and then the new fields are automatically in that tab on all agreements. Example in the field our customers have: File location, Legal entity, Organization number, etc.
What is saved under 'Log'?
All changes to an existing agreement are stored here automatically. We do not store information about who viewed the agreement in Copyl.
Can we change the serial number of the agreements?
To do that you need to contact [email protected] and we will help you with that.
Can we insert extra monitoring dates, e.g. reconciliation dates, on an agreement in Copyl?
Yes, you do that under the 'Monitoring' tab.
Where is the data stored?
All data in Copyl is stored in Sweden. Copyl AB is a Swedish company that is subject to Swedish law and complies with the GDPR. You have the option of encrypting data in the database to ensure that personal data cannot be read out without a password.
Does Copyl have a mobile app?
Yes. The website is built as a PWA app ('Progressive Web App') so you just save the URL in your mobile and you have an app installed.
Can you adapt Copyl's contract management to specific needs?
Yes. On the one hand, we are constantly developing Copyl based on the customers' needs, and if there are special functions that do not suit other customers, we adapt your environment. Copyl also has an integration platform that makes it possible to connect all your internal - and external IT - systems.
Is there a free version of Copyl Agreement Management?
Copyl has a free version of all modules, so also for contract management. Limitations in the number of contracts and sharing possibilities are in the free version.
Can we store other documents in the contract management?
Yes. Copyl has an advanced document management system with version management and rights system that we call Virtual Data Room (VDR). Here you can create folders and save as many documents as you like. You can also access a special software to manage your documents on your computers, e.g. upload/download.
Can you get an education in contract management?
We help you get started with Copyl free of charge and that includes attending (if you want) when you set up your first agreement. We want you to be able to use Copyl without friction so we also listen to which more needs you have regarding the system that more people can benefit from. Then we plan those changes in our development work, completely free of charge of course.
Have more questions?
Contact us and we will help you with any question.
Compare versions of
Copyl Contract Management
Free

Professional

Enterprise

Price per month

$9.90

$19.80

Electronic Signatures
Invite parts to sign the Contract and the connected documents.
Max Contracts
How many Contracts you can save.

5

30

Unlimited

Counterparts
How many counterparts you can have on each contract.

1 per contract

Unlimited

Unlimited

Files per Contract
How many files you can connect to each Contract.

5

Unlimited

Permissions
If you have permissions, you can access all contracts registred.

Your own contracts

Your team's contracts

Access all contracts

Framework Agreements
A Framework Agreement can be connected to several contracts.
Extra notification dates
You and the contract followers can add extra notification dates to the contract. You will be notified when the date occurs. Useful for follow-up meetings etc.
Follow Contracts
If you have permissions, you can follow a contract and get notified just as the owner of the contract.
Dynamic Properties
You can add extra fields/properties to the form.
Connect Contract to Budget
See the financial impact of the contract.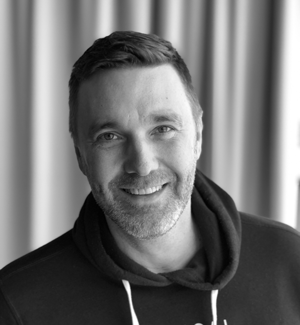 I will help you implement Copyl
Hello! My name is Rolf Bäck and I am the founder of Copyl. For almost 30 years, I have helped companies build smart IT systems.
The best thing I know is to help customers get started with Copyl and help with adaptations and integrations.
Some of my latest clients are Sony, Samhall and the particle accelerator ESS.
Do you want to know more about how we can help your company in particular? contact me directly.
Try Copyl you too - as thousands of others have done
Use our free version as long as you want.